With the advanced GPT-4 LLM, ChatGPT has shown itself as a top AI chatbot in 2023. Other alternatives to ChatGPT aren't quite as good. Another widely used option is Microsoft Bing Chat, which chats and gives information. Right now, you can access the new ChatGPT-powered Bing and Edge versions in a few ways. Since it's still in preview, access might be a bit limited. To be one of the first to try this new ChatGPT-powered search engine, follow the steps mentioned in this article. The great news is, you can use Bing in ChatGPT and vice versa. This guide will explain how.
Using Microsoft Bing Inside ChatGPT
Microsoft made the chatbot available for open preview and introduced various upgrades. This means anyone with a Microsoft account can now use the new Bing with ChatGPT. We will begin by using Bing search inside ChatGPT. No need to worry, the steps are simple. Just follow the process below, and you're good to go.
Step 1: Buy a ChatGPT Plus Subscription
To use Bing search with the chatbot, you need a ChatGPT Plus subscription. This is necessary for certain settings below to work. ChatGPT Plus is priced at $20 per month and is definitely worth it based on our experience. Here's how you can obtain it.
Head over to the official ChatGPT website and proceed to sign up or log in if you already have an account.
Once on the chat screen, click the "Upgrade to Plus" option on the bottom left of the sidebar.
And then click the "Upgrade Plan" button to get ChatGPT Plus.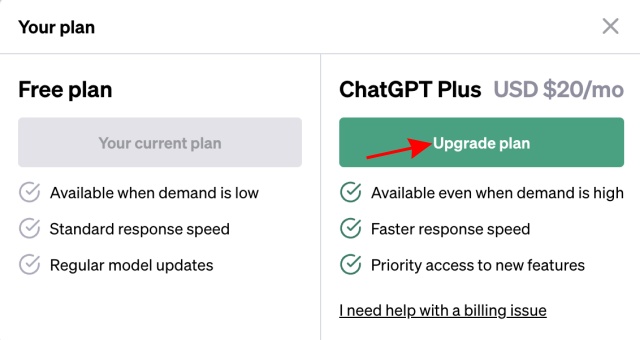 Finally, enter your card details and purchase the subscription.
Step 2: Enable Bing in ChatGPT
Once done with the above steps, click the ellipsis icon (three dots) on the bottom left and click "Settings."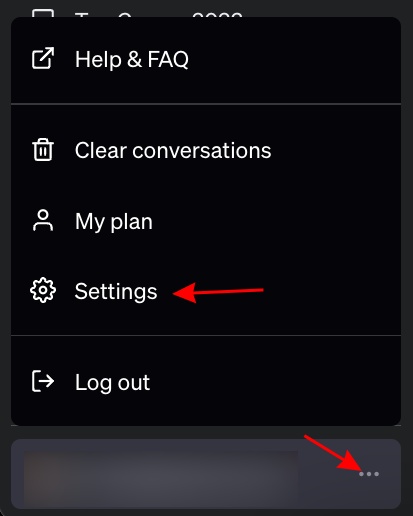 Click on "Beta Features" and toggle on "Browse with Bing" to finish the process.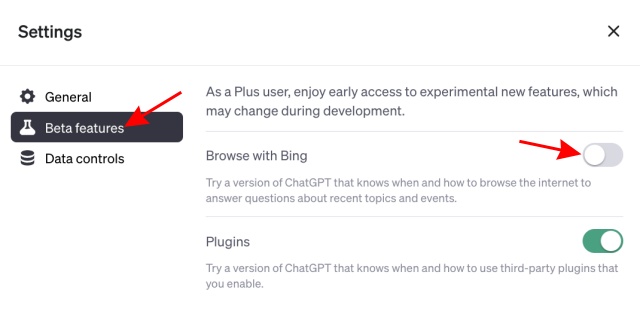 Step 3: Use Bing Search in ChatGPT
With that out of the way, let's begin using Bing search right within ChatGPT:
On the top of the screen, click on "GPT-4" to reveal a dropdown menu.
Then, click on Browse with Bing (Beta) here.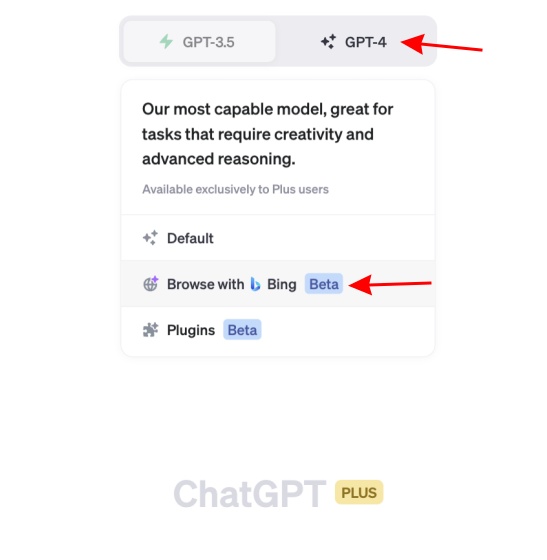 Now, simply ask ChatGPT any query that would require access to the Internet. It will automatically browse Bing and let you use it inside ChatGPT.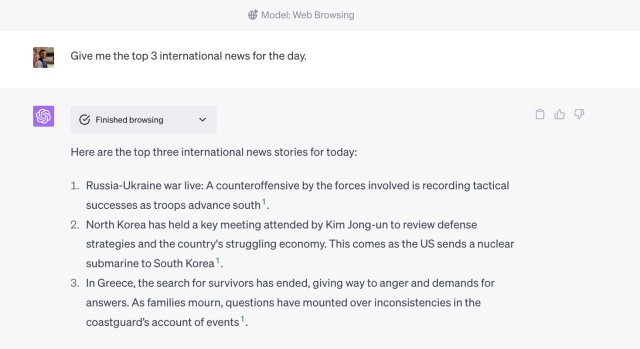 And just like that, you are now using Microsoft Bing with ChatGPT! Follow the above steps anytime you feel like accessing the Internet and search for answers via Bing.
Using ChatGPT in Microsoft Bing Search
While many users want to use Bing inside ChatGPT, we can understand why would want it the other way. Well, you will be happy to know that Microsoft Bing has been using OpenAI's GPT-4 model all along. This essentially makes the search engine cum chatbot ChatGPT itself.
Do note that you will either need to download Microsoft Edge (Get) or learn how to access Bing AI from any browser through our guide. With that said, follow the steps below:
Step 1: Register for a Microsoft Account
Head over to the official Microsoft account website and begin creating a new account.
You will only need to provide your basic details for the same. From then on, it's pretty easy to finish creating your account.
Step 2: Log into Your Account in Edge
With Microsoft Edge open, visit the official Bing website and click on the "Sign in" button.
Enter your account credentials and proceed to sign in.
Step 3: Use ChatGPT via Bing Chat
You will find yourself on the Bing home page, but now with Bing AI Chat access.
Click the "Chat" button at the top here.

Now, choose the "More Precise" mode. However, you can go ahead with any of the other modes on Bing as all of them use ChatGPT. Then, ask Bing whatever you want, and it will begin searching for you.
And as you can see, Microsoft Bing worked alongside ChatGPT and gave out answers to a random query we input. Repeat the above steps and use ChatGPT with Bing anytime.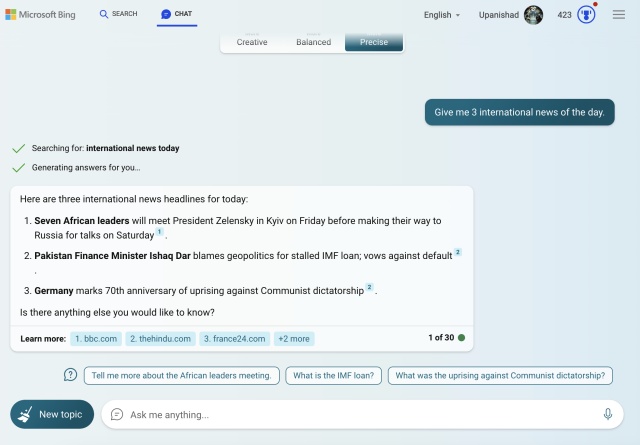 How to use Bing with ChatGPT on mobile?
Starting from February 22, 2023, Microsoft's fresh Bing chatbot can be used on iOS and Android apps like Bing, Edge, and Skype. They've also included Bing with ChatGPT in the SwiftKey keyboard, even for the SwiftKey iPhone app.
Before, you had to use the new Bing to access Bing with ChatGPT features on these apps. But now, with Bing Chat in open preview, all you probably require is a Microsoft account.
In 2023, Google and others are racing to launch their versions of Microsoft's Bing chatbot. This chatbot can search for information and create answers independently. We'll see the full range of its capabilities soon. We tested You.com's AI chatbot against the new Bing, and the results were interesting.