114th birth anniversary celebrated on 27th September, 2021.
Bhagat Singh | BIOGRAPHY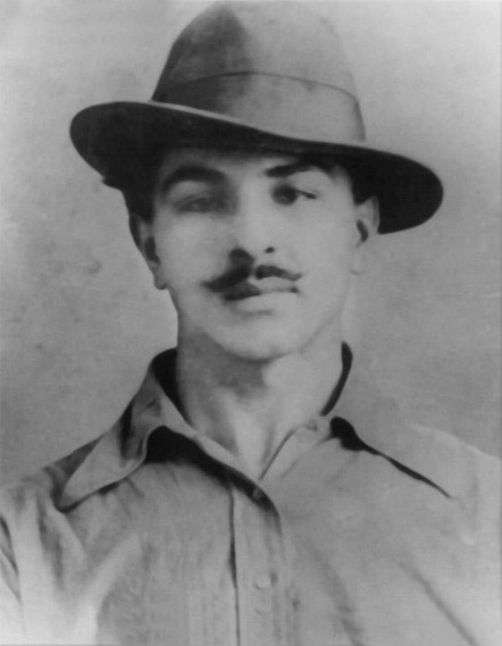 NAME
Bhagat Singh
BIRTH DATE
September 27, 1907
PLACE OF BIRTH
Punjab, British India (now Pakistan)
EDUCATION
National College, Lahore, National College of Arts, Dayanand Anglo-Vedic Schools System
OCCUPATION
Political Activist
SOMETHING DIFFERENT TO KNOW
At age 13, Bhagat Singh quit school to become a revolutionary.
DEATH DATE
March 23, 1931
PLACE OF DEATH
Lahore, British India (now Pakistan)
FAMOUSLY KNOWN AS
Shaheed Bhagat Singh
MOVEMENT
Indian Independence movement
Synopsis
Bhagat Singh was born in Punjab, India (now Pakistan), on September 27, 1907, to a Sikh family deeply involved in political activities. He quit school at thirteen to devote his life to Indian independence. He became involved in several violent demonstrations of political defiance and was arrested several times. Singh was found guilty of killing a British police officer and hanged on March 23, 1931.
Early Years
Born on September 27, 1907, to a Sikh family in Punjab, India (now Pakistan), Bhagat Singh was the second son of Kishan Singh and Vidya Vati. The family was steeped in nationalism and involved in movements for independence. At the time of Bhagat's birth, his father was in jail for political agitation.
By the time Bhagat Singh was 13, he was well familiar with this family's revolutionary activities. His father was a supporter of Mahatma Gandhi, and after Gandhi called for boycotting government-aided institutions, Singh left school and enrolled in the National College at Lahore, where he studied European revolutionary movements. In time, he would become disenchanted with Gandhi's non-violent crusade, believing that armed conflict was the only way to political freedom.
Young Firebrand
In 1926, Bhagat Singh founded the 'Naujavan Bharat Sabha (Youth Society of India) and joined the Hindustan Republican Association (later known as Hindustan Socialist Republican Association), where he met several prominent revolutionaries. A year later, Singh's parents planned to have him married, a move he vehemently rejected, and he left school.
By this time, Bhagat Singh had become a person of interest to the police, and in May 1927, he was arrested for allegedly being involved in a bombing the previous October. He was released several weeks later and began to write for various revolutionary newspapers. After receiving reassurances from his parents that they wouldn't force him to marry, he returned to Lahore.
Radical Revolutionary
In 1928, the British government held the Simon Commission to discuss autonomy for the Indian people. Several Indian political organizations boycotted the event because the Commission had no Indian representatives. In October, Bhagat Singh's comrade, Lala Lajpat Rai led a march in protest against the Commission. Police attempted to disburse the large crowd, and during the melee, Rai was injured by the superintendent of police, James A. Scott. Rai died of heart complications two weeks later. The British government denied any wrongdoing.
To avenge his friend's death, Bhagat Singh and two others plotted to kill the police superintendent, but instead shot and killed police officer John P. Saunders. Singh and his fellow conspirators escaped arrest despite a massive search to apprehend them.
In April 1929, Bhagat Singh and an associate bombed the Central Legislative Assembly in Delhi to protest implementation of the Public Safety Bill. The bombs they carried allegedly were not intended to kill but to scare (no one was killed, though there were some injuries). The bombers planned to get arrested and stand trial so they could further promote their cause.
Arrest and Trial
The actions of the young revolutionaries was soundly condemned by followers of Gandhi, but Bhagat Singh was delighted to have a stage on which to promote his cause. He offered no defense during the trial but disrupted the proceedings with rants of political dogma. He was found guilty and sentenced to life in prison.
Through further investigation, the police discovered the connection between Bhagat Singh and the murder of Officer Saunders and he was rearrested. While awaiting trial, he led a hunger strike in prison. Eventually, Singh and his co-conspirators were tried and sentenced to hang. He was executed on March 23, 1931. It is said that he kissed the hangman's noose before it was placed around his neck. His death brought mixed emotions throughout India. Followers of Gandhi felt that he was too radical and hurt the quest for freedom, while his supporters considered him a martyr. Singh remains a significant, though controversial, figure in India's independence movement.
Facts about the Legend Shaheed Bhagat Singh
89 years ago, one of India's greatest revolutionary freedom fighters, Bhagat Singh, was given the death penalty by the British colonisers. And though he died young, only 23 years of age, his actions inspired the youth of the nation to fight for the nation's freedom. His execution spurred many to take up the revolutionary path, playing an important role in India's freedom struggle. While many didn't agree with his radical approach Mohammad Ali Jinnah defended his actions. Here's what you should know about him.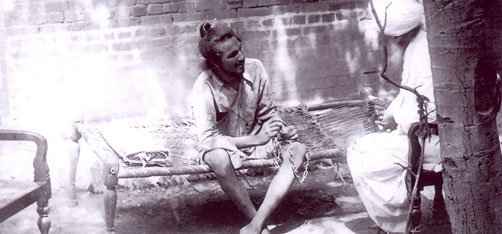 Bhagat Singh left home for Kanpur when his parents tried to get him married, saying that if he married in slave India, "my bride shall only be death" and joined Hindustan Socialist Republican Association.
He along with Sukhdev planned to avenge the death of Lala Lajpat Rai and plotted to kill the Superintendent of Police James Scott in Lahore. However, in a case of mistaken identity, John Saunders, the Assistant Superintendent of Police was shot.
Although a Sikh by birth, he shaved his beard and cut his hair to avoid being recognised and arrested for the killing. He managed to escape from Lahore to Calcutta.
A year later, he and Batukeshwar Dutt threw bombs in the Central Assembly Hall in Delhi, and shouted "Inquilab Zindabad!" He did not resist his arrest at this point.
During interrogation, the British came to know about his involvement in the death of John Saunders a year earlier.
At the time of his trial, he didn't offer any defence, rather used the occasion to propagate the idea of India's freedom.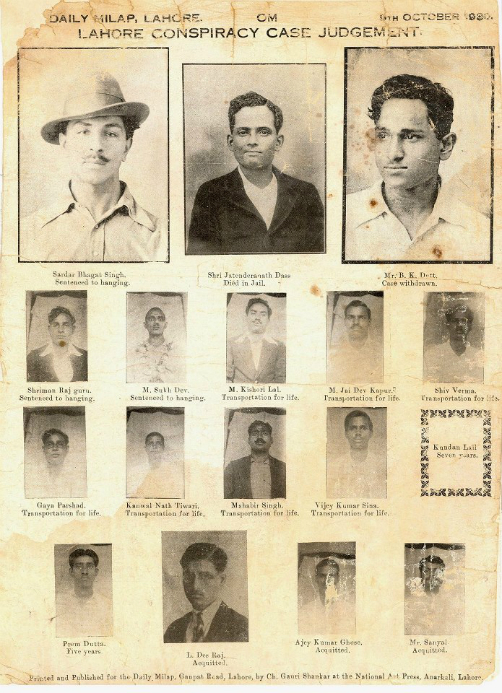 His death sentence was pronounced on 7 October 1930, which he heard with defiant courage.
During his stay in jail, he went on a hunger strike against the policy of better treatment for prisoners of foreign origin.
He was sentenced to be hanged on 24 March 1931, but it was brought forward by 11 hours to 23 March 1931 at 7:30 p.m.
It is said that no magistrate was willing to supervise the hanging. After the original death warrants expired it was an honorary judge who signed and oversaw the hanging.
Legend says, Bhagat Singh marched to the gallows with a smile on his face and his one last act of defiance was shouting "Down with British imperialism."
India's most famous freedom fighter was only 23 years old when he was hanged. His death inspired hundreds to take up the cause of the freedom movement.
MORE ABOUT BHAGAT SINGH
Gandhi's influence
Initially, he supported Mahatma Gandhi and the Non-Cooperation Movement. However, when Gandhi withdrew the movement in the wake of the Chauri Chaura incident, Bhagat Singh turned to revolutionary nationalism.
Associations he was associated with:
In 1924 in Kanpur, he became a member of the Hindustan Republican Association, started by Sachindranath Sanyal a year earlier.
In 1925, Bhagat Singh returned to Lahore and within the next year he and his colleagues started a militant youth organisation called the Naujawan Bharat Sabha.
In 1928, he was associated with the Hindustan Socialist Republican Association (HSRA) along with Sukhdev, Chandrashekhar Azad and others.
Bhagat Singh and Sukhdev also organized the Lahore Students Union for open, legal work among the students.
Revolutionary activities he was involved in:
Lahore Conspiracy case.
1929 Central Assembly Bombing Case.
Bhagat Singh Execution:
Bhagat Singh was arrested and charged in the Saunders murder case, along with Rajguru, Sukhdev and others. The trio was ordered to be hanged on 24 March 1931 but the sentence was carried out a day earlier at the Lahore Jail.
23rd March is observed as 'Martyrs' Day' or 'Shaheed Diwas' or 'Sarvodaya Day' in honour of Bhagat Singh, Rajguru and Sukhdev.
Political ideology:
His azaadi freedom was not limited to the expelling of the British; instead he desired azaadi from poverty, azaadi from untouchability, azaadi from communal strife, and azaadi from every form of discrimination and exploitation.